Windows

Exterior Elements is proud to market Cascade Windows for both new construction and replacement. Since 1989, homeowners and builders have turned to Cascade Windows
for the best design, energy efficient, and cost effective windows available. Let Cascade Windows frame your life's moments affordably, with beauty and technical innovation.


Available Products
WINPRO SERIES
Style - Excellent structural and thermal qualities with maximum viewing area.
Application - A great choice for new construction or replacement applications.
CASCADE SERIES
Style - A strong combination of traditional window styling and enhanced structural integrity.
Application - Custom homes and light commercial applications requiring top structural performance.
THERMALPRO SERIES
Style - Bring attractive looks and great thermal performance to your window replacement project.
Application - Designed for remodeling or replacement applications requiring top thermal performance.
>> View Product Comparison Chart [pdf]
Color Options - Vinyl Frame
White
Almond
Clay
The Vinyl Frame Color Options shown are not an exact match to the actual color of our vinyl.
Request a Color Sample Key Chain for design purposes and accurate color matching.
Painted Exterior Frame Colors are available with additional lead times.
Custom Color Matching is offered for an additional setup fee.
Window Configurations
PICTURE WINDOW CONFIGURATIONS




SLIDER WINDOW CONFIGURATIONS




SINGLE HUNG WINDOW CONFIGURATIONS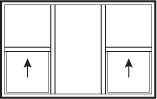 CASEMENT WINDOW CONFIGURATIONS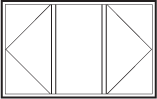 AWNING WINDOW CONFIGURATIONS




SPECIALTY SHAPE WINDOW CONFIGURATIONS








Energy Efficiency

Cascade Windows is an Energy Star Partner. Energy Star &reg was first developed in 1992 by the
US Environmental Protection Agency as a method to identify and promote products that are energy efficient. Energy Efficient products save you money and help protect our environment. All Cascade Windows products may be ordered to meet or exceed Energy Star requirements.

Some of the text and images on this page have been taken from the website or promotional materials of Cascade Windows.
Note: Any warranties or guarantees mentioned on this page are that of the manufacturer and not Exterior Elements, Inc.